The Emerge Education Project supports work-based learning and skill development of our emerging FFA leaders to enhance their career readiness within STEM industries throughout Montana in learning pathways offered through Agricultural Education.
This special project provides Montana Agricultural Education programs with funding to enhance instruction needed for leadership and career skill development, as well as increasing the impact programs have in the local community through developing student projects. These funds can be used to update or enhance classroom equipment, technology, curriculum, or any other resource that can be used to improve instruction and inquiry-based, immersive learning in Montana Agricultural Education programs.
Since the inception of the Emerge Education program in 2018, the Montana FFA Foundation has raised $95,000 for FFA chapters with support from the Browning-Kimball Foundation, TC Energy, and the Montana Office of Public Instruction.
Below are the Emerge Education recipients for the 2020-2021 school year:
Bainville
Chinook
Corvallis
Grass Range
Plevna
Rapelje
Ruby Valley (Sheridan)
Wibaux
Laser Engraver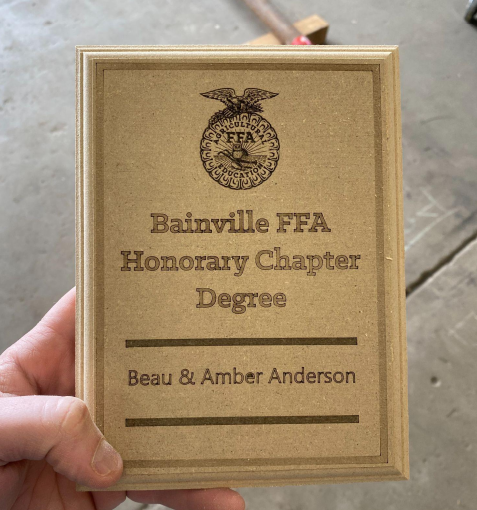 The Bainville FFA Chapter used their Emerge Education grant combined with other CTE funding to purchase a large laser engraver with several accessories. The chapter has been learning as they go and have already created several amazing projects with it.
They created neon signs for their school prom, metal business card holders, and have even turned it into a fundraising opportunity. The chapter has already been contracted to make the plaques for the Big Muddy FFA District contests next year and are also looking into engraving leather to make the awards for their county fair.
Not only have they found monetary value, but the table has been able to be used as a recruitment tool for their program. Students from seventh grade to seniors have taken an interest in using the engraver and enthusiasm for classes is growing. The potential is limitless, and the chapter is just getting started on the opportunities.
Bainville FFA members engraved plaques that were presented at the Bainville FFA Chapter Banquet in May.
Reproductive Technologies
The Plevna Agricultural Education Program hosted an artificial insemination class for the Advanced Animal Science and Animal Science classes. Local rancher and cattle artificial insemination business owner, Bruce Ketchum, visited the classes and taught them the technique of artificial insemination in cattle, using the RealityWorks Bovine AI Simulator.
The students learned very useful skills that will be applicable to the location that they live in and were told about the potential financial opportunity by having this particular skill. The students enjoyed learning this skill and being able to have a hands-on experience to apply the technical artificial insemination skills they learned.
In their community, there are several cattle operations that artificially inseminate their herds, so students could have the opportunity to help out on these ranches as a Supervised Agricultural Experience (SAE). There is also a local artificial insemination business that could provide seasonal work for students looking to pursue a future in Animal Science.
Through this grant, students were not only able to learn the hands-on skill of insemination, but also able to see all the different business opportunities available.
Outdoor Classrooms
The Big Timber FFA was awarded an Emerge Education grant in 2020 in order to improve their outdoor learning space. Next to the school is a few acres of land that belong to the chapter but weren't being utilized.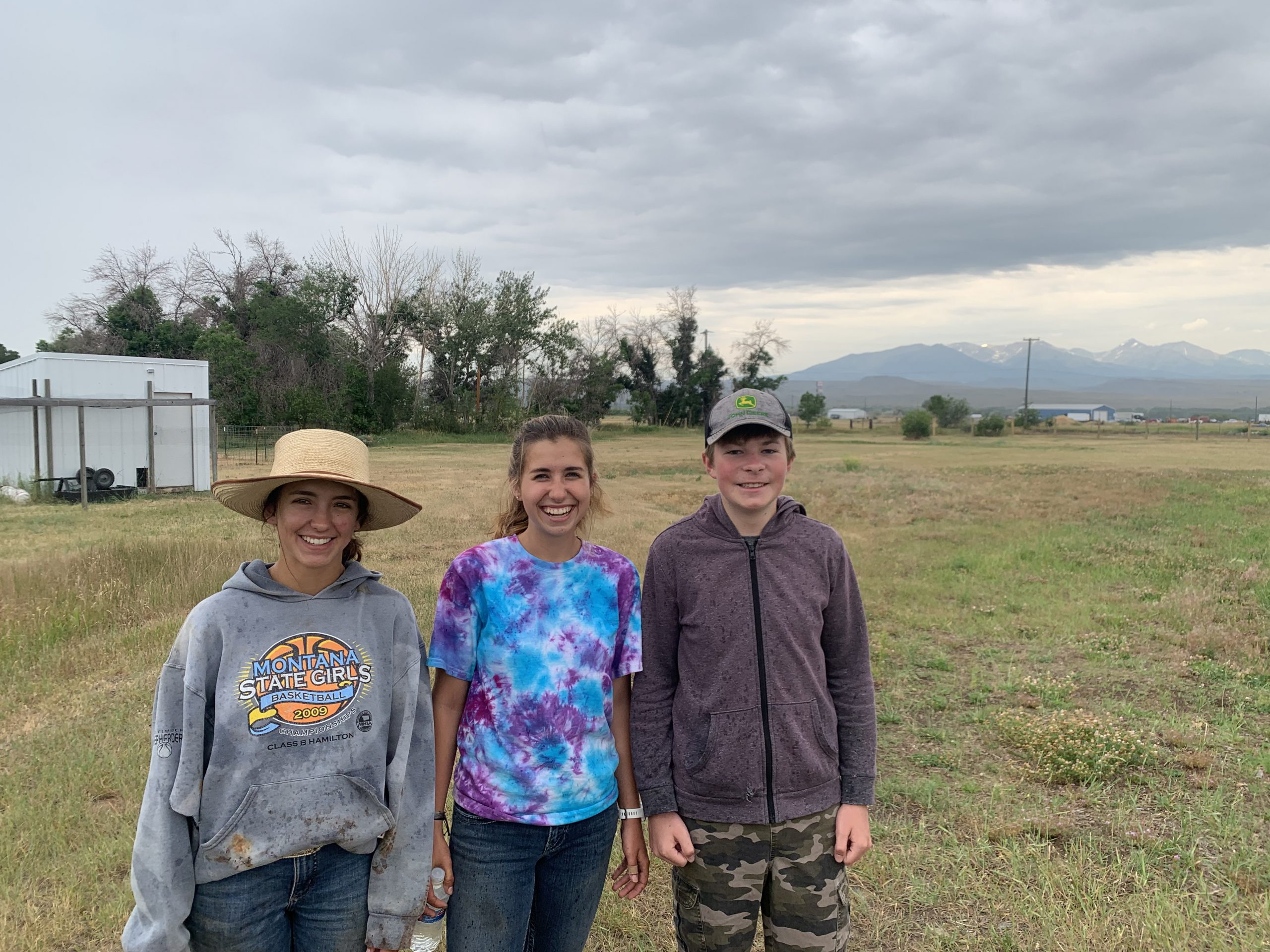 When looking at the land, the FFA Advisors saw potential. With the grant, they planned to have students construct a fence so that livestock could be turned out on the land. Once that was complete, it opened up immeasurable potential for both in-class learning as well as SAE projects.
In addition to the fence, Big Timber FFA plans to use the land as an advertising opportunity. Because of the location, there is a lot of traffic flow by the land from the high school on a daily basis. They capitalized on this opportunity to put up a sign promoting their Agricultural Education program.
Students have worked together to build the fence and manage the land. In the picture above, students can be seen on a day of work on the FFA chapter's land. The chapter plans to begin putting livestock in the newly fenced area in the fall of 2021.
Science Fair
Corvallis School district's first-ever science fair came out of pure need. Neela Andres teaches an agriculture-based science fair class where students dive deep into major and relevant problems in agriculture. In September, they choose projects they are passionate about and then spend the school year researching other's work, writing research papers, and collecting their own data. From calculating back fat in beef, collecting marketing data on local ag products, and measuring parasite load from a fecal float, these students are learning tangible skills that will translate well to many careers in Agriscience.
The best part of this class is being able to show off their data to trained and dedicated professionals. Her students worked hard all year long to present at the regional and State FFA science fair. Unfortunately, this year due to COVID, they only were able to present via Zoom. While these virtual fairs were a great experience, she longed for her students to feel the nerves, energy, excitement of an in-person science fair, so Miss Andres got to work.
She found judges relating to her students' project areas and created a system for scoring. Students were able to interact with STEM industry professionals. With the grant, Corvallis FFA provided meaningful awards to student winners and support day-of material costs for the fair.