The first-ever Junior Ag Mechanics Projects show took place on August 2 at the Montana State Fair in Great Falls, MT. This show focused on Montana FFA members' expertise to design and construct agricultural mechanics projects. Students could submit projects in four areas: livestock equipment, outdoor recreation, trailers, and agricultural machinery. From beginning-level projects such as fire pits and lawn chairs to the complexities of bumper pull and goose-neck trailers,
 Montana's Agricultural Education students are given the opportunity to highlight their hard work and attention to detail through their project showcases.
Exhibitors were able to compete as individuals or in teams of up to six members. Their projects were only judged on craftsmanship as well as their ability to document their process and interact with the judges panel. Through this project, students were not only challenged in their technical abilities like welding, cutting, or fastening, but also in teamwork, problem-solving, and critical thinking. 
Eighteen projects were entered from eleven programs across Montana, involving twenty-four students in the activities. Thanks to North 40 Outfitters; Torgerson's, LLC; General Distributing Company; Montana Farm Bureau Federation; Arête Design; Binder Built; and the Montana FFA Foundation, project winners in each category were sent off with prizes for their hard work. These prizes included belt buckles, banners, and shop tools like welders, drills, personal protective equipment, and saws. 
Dr. Dustin Perry, Montana State University Agricultural Education professor and contest supervisor, stated, "I feel it's safe to say the inaugural Junior Agricultural Mechanics Project show was an absolute success for the students, teachers, and sponsors involved. Student projects were impressive and left me feeling excited about the future! I want to thank all of those involved in getting this event going. It's been a dream come true to see it come to fruition."
Dr. Perry wasn't the only person who left with a sense of pride and hopefulness as there were twenty teams and individuals who left with a prize in their hands and experience added to their toolbox. In the Trailer Division, Lodge Grass's 16 ft. bumper pull trailer took fourth, following Shelby's 10 ft. utility trailer. The Fergus of Lewistown members showed a 25 ft. tilt-deck trailer earned second place while the chapter a few hours south, Big Timber, exhibited a custom-made grill trailer fo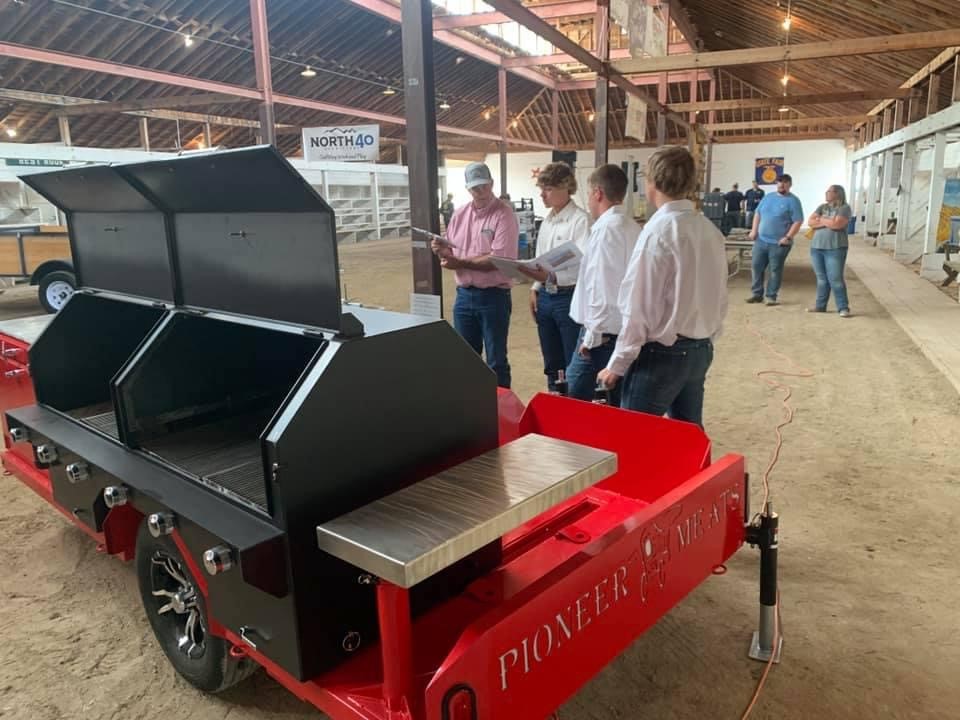 r the local business Pioneer Meats that won the division.
In the next category, Livestock Equipment, Big Timber also excelled, winning the category with their livestock entry gate. Absarokee's bale feeder was close behind in second place, with Lodge Grass's auction block in third and Fairfield's goat stand in fourth. 
Fairfield dominated the Outdoor Recreation division, their bike rack beating Bainville's folding table for first place. Choteau earned third and fourth places in this category with a fire pit and a picnic table.
In the Agricultural Machinery division, Beaverhead won with their truck headache rack followed by Gardiner with a truck bumper and Fort Benton with another headache rack. 
In the category of Showmanship, Big Timber FFA members took home the grand, followed by Fairfield in reserve, and then the second group of Big Timber FFA members in third place. Absarokee rounded out that category in fourth.
Fergus of Lewistown FFA members took their place as the winners of the Hardship category. 
All involved are looking forward to next year, and the opportunity to once again show off their skills!