National FFA announced the award winners and finalists for the Agriscience Fair, Agricultural Proficiency Awards, and National Chapter awards in early August, and it was no surprise to see Montana FFA names and chapters throughout the lists of outstanding leaders in our organization. As these finalists and award winners prepare for National FFA Convention & Expo in Indianapolis, IN, October 27-30, we'd like to take a moment to recognize the students in the Blue Jacket who will be representing the Big Sky State on the big stage in Lucas Oil Stadium. 
Montana FFA Members brought home many Agricultural Proficiency Awards in the Bronze and Silver Categories, but National Finalist in the Goat Production Entrepreneurship Area, Lexy Dietz, is patiently waiting for Thursday, October 28th, when the proficiency winner will be announced.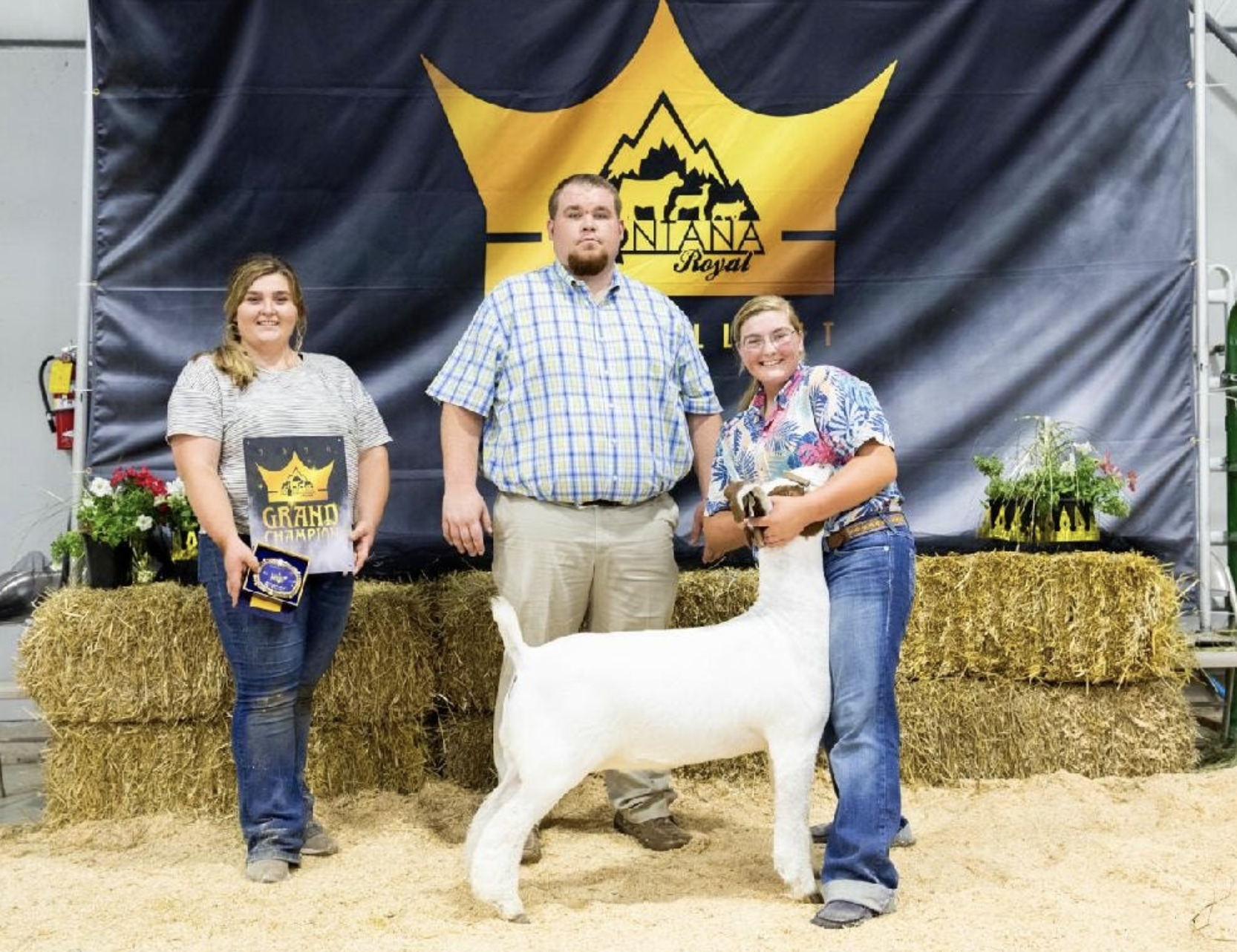 Dietz, orginally from Shepherd FFA, is currently a sophomore at Williston State College in Williston, ND, where she plays softball and is studying Agricultural Science. Lexy is a lover of lifelong learning and growth and has been since she was little. At just eight years old, Dietz's interest in Boer goats began.  They caught her eye at livestock shows, and she was eager to take on the challenge of showing and raising them. Dietz and her father traveled to California, and that is where she purchased her first few goats.  From there, she continued working hard to add to her herd.  As a seventh-grader, Lexy had already built her herd to 8 does, 2 bucks, and 12 kids. Now, in her sophomore year of college, Lexy's herd continues to be impressive and is one of the best four projects for Goat Production Entrepreneurship amongst FFA students in the nation.
Agricultural Proficiency Awards honor FFA members who, through supervised agricultural experiences, have developed specialized skills that they can apply toward their future careers. Dietz plans to utilize the skills learned in this project, and in other diversified agricultural experiences, to continue her education and begin a career as an Embryologist.
Nationally, students can compete for awards in nearly 50 areas ranging from agricultural communications to wildlife management. Proficiency awards are also recognized at local and state levels and provide recognition to members that are exploring and becoming established in agricultural career pathways.
Montana FFA Students highlighted through the National Proficiency Award Program were as follows.
Silver:
Bailey Lake – Kalispell
Gweneth Collins – Shields Valley
Reace Lannen – Shields Valley
Jacob Brown – Winifred
Bronze:
Kaden Hansen – Bainville
Rebecca Stroh – Chinook
Austin Swanson – Chinook
Miles Graveley – Deer Lodge
Max Andres – Missoula
Jayden Goosen – Richey
Caleb Senner – Richey
Peter Johnson – Simms
Colton Young – Stillwater Valley
Every year, the National FFA Organization bestows the highest degree achievable to a group of FFA members who have shown commitment to their personal development, excelled in their supervised agricultural experience, and displayed dedication to their state FFA association throughout their FFA career. Recipients of the American FFA Degree show promise for the future and have gone above and beyond to achieve excellence.
This year, 17 outstanding FFA members from Montana will be receiving the golden American Degree key:
Harleigh Johnson – Beaverhead
Alyssa Thormahlen – Belfry
Nicole Green – Big Horn
Callie Williams – Broadus
Taylor Noyes – Broadwater
Hannah LaBree – Carter County
Heather LaBree – Carter County
Alyssa Nicole Gruszie – Chinook
Jacob Crowder – Culbertson
Tyler Wilbanks – Culbertson
Dacey Robertson – Fromberg
Luke Heupel – Kalispell
Bethany Lyford – Kalispell
Max Andres – Missoula
McKenna Quirk – Missoula
Logan Turner – Missoula
Isaac Sponheim – Richey
Tune in to the National FFA's live General Sessions to watch the announcement of the 2021 National Proficiency Award Winners and American FFA Degree Recipients. National FFA Sessions can be found at FFA.org.