Laurel's Kelsey Proue and Dillon's Morgan Kuntz Take on new roles at Montana FFA Foundation.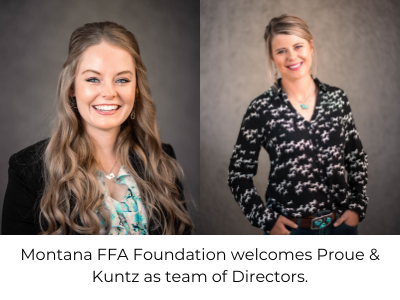 At the conclusion of the 2022 Montana FFA Convention, Montana FFA Foundation Board of Directors President Curt Robbins announced the addition of Kelsey Proue and Morgan Kuntz to the Montana FFA Foundation Staff.   
This announcement concludes the search for staff after Executive Director Gwynn Simeniuk and Programs and Office Manager Katharine Taylor resigned their positions.  
Robbins and his Board stated, "We would like to thank Gwynn and Kat for their work for Montana FFA. Our organization will be permanently better because of the vision, commitment, and drive throughout their tenure."  
"This vision, commitment, and drive will live through the Foundation and our new leadership. We are so excited to have Morgan and Kelsey on board as we continue supporting youth's personal and leadership growth through agriculture."  
Stepping into these roles are Kelsey Proue and Morgan Kuntz. Proue, from Laurel, will take on the role of Director of Operations, and Dillion's Morgan Kuntz will work as the Director of Development.  
Both individuals come from very deep agricultural and FFA backgrounds.   
Proue grew up on a farm and ranch between Billings and Laurel, Montana. Kelsey has been involved in 4-H and FFA throughout her childhood and high school career. Within FFA, she took on many leadership and competitive roles. Kelsey was also elected as the 2017-2018 Montana FFA State Reporter to serve the association. In October 2018, she represented Montana as the National FFA Officer Candidate. However, even though she was not elected to a National FFA Office, Kelsey was allowed to serve on the Montana FFA Alumni and Supporters board for three years.  
Kelsey graduated in May from Montana State University – Bozeman with two degrees in agricultural education and elementary education.  
"Ever since I put on the FFA jacket, I knew there was something special about this program. FFA and agricultural education gave me skills I never thought I would have. FFA shaped who I am today and the career path I have chosen. I am proud to be a part of this organization and give back in any way I can." 
With family as charter members of the Beaverhead FFA, Kuntz grew up with a strong connection to the FFA. Her mother was the first woman to join the Beaverhead FFA. In 2011- 2012, Morgan was elected as the Montana FFA Association State President, making her the third president of her family.  
After serving as an FFA State Officer, Kuntz pursued dreams in production agriculture, starting a black Angus cow/calf operation and breeding horses.  
"I stayed busy with my agricultural pursuits, but FFA was never far from my heart. If there was ever an opportunity to judge, serve on the state officer nom-com or give back to the association in any way, I jumped at the opportunity. There is something so rewarding about being able to give back to the organization that shaped me as a human," Kuntz added,  "stepping into a role with the Montana FFA Foundation is an absolute dream job."  
Proue and Kuntz are excited to get to work with the Montana FFA Foundation and are looking forward to the opportunity to connect with all members, advisors, and supporters.